Robert (Bobby) Reisz, MSE, CSCS, LAT, LMT  is a  sought after speaker whose fast paced entertaining style inspires and educates people & Athletes to take charge of their health by incorporating simple action steps into their daily lives.   Bobby has been speaking for 15 years to a wide variety of audiences ranging from 50 to 5000 including corporations, doctors and health care professionals and the lay public.   He has shared the stage with such notables as…….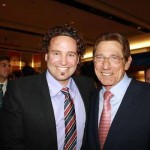 His speaking engagements include:
National Association of Sports etc.
Bobby  speaks to health care professionals, Athletic association, Health & Wellness groups, High Schools, Parents associations and the lay public and can effortlessly present to each of these audiences.  His most popular talks include:
The 5 Key Athletic Habits of Highly Successful  Athletes
Easy Action Steps to Boost Your Energy, Laser Your Focus and Build Your Confidence on the field
Are Your Habits making you Fat?
How Your Habits Can Make You Weight Loss Resistant AND How You Can Make Simple Changes to Your Diet & Lose Weight Faster
The 5 Simple Strategies for Your Best Injury Free Year Yet!
Boost Your Performance, Explode your Workout Results and FINALLY reduce your injury for a long term professional Athletic Career
If you would like Bobby to Rock your next event please use the form below to let us know so that we can get you on our calendar!